Welcome to our Stamp of the Month Blog Hop! This month we have almost 60 participants in the blog hop! We will be featuring March's SOTM, which is Floral Happiness, a 16 stamp set with a TON of versatility!!  This stamp set is available for $5 with any $50 purchase! If you have come here from Annette's Blog, you are on the right path! The blog hop is a great big circle, so you can start here and work your way all around. If you get lost along the way, you'll find the complete list of participating consultants here.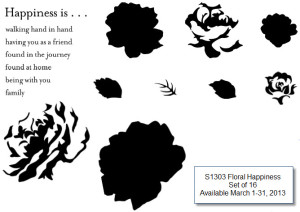 I did something completely different for this month's blog hop.  I created a 'one sheet wonder' and cut it to make a whole bunch of  cards.  I tried a few different things with these stamps before deciding the detailed flower stamps worked the best to create my sheet of stamped patterned paper.    I  used different stamps from the set to randomly stamp in first and second generation in Blush and Pansy Purple.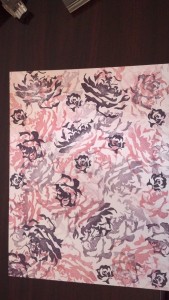 Then I cut it up into various sizes and used the pieces to make the following.  I found the initial cut guide on a blog site (I have to add the link here), but then made a bunch of changes as I went.  I also cut the same exact sizes in the Blush and Pansy Purple papers.
In addition to the sentiments on SOTM, I used Joyful Birthday Occassions (B1419) and Card Word Puzzle Occassions (C1494) to stamp the sentiments.  Card Word Puzzle is so versatile!
Now Hop on Over to Allisa's Blog and see what amazing creations she has for you!
Book an online party with me in March and if it totals $250 or more you will get bonus hostess credits – you will bump up to the next level.  Email me at mariamyers222@gmail.com for more information.