Welcome to our Stamp of the Month Blog Hop! This month we have over 60 participants in the blog hop! We will be featuring August's SOTM, which is A Chocolate Affair.   This stamp set is FREE IN AUGUST with any $50 purchase! If you have come here from Alyson's Blog, you are on the right path! The blog hop is a great big circle, so you can start here and work your way all around. If you get lost along the way, you'll find the complete list of participating consultants here.
This is the stamp set: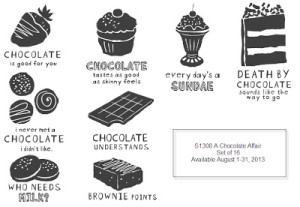 I decided to make a very simple card with this stamp – so i just covered my cardstock and stamped the chocolate cake and saying on the front and then some chocolate on the inside.  Could be a birthday card or a get well card or anything I want card!
Here is the image of the stamps from our idea book.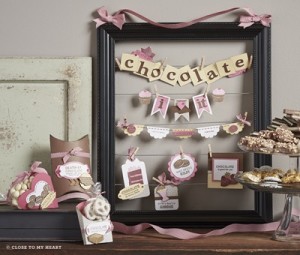 Now hop on over to Michelle's Blog and see what she has created for us!