Welcome to the Stamp of the Month Blog Hop!  This month we have nearly 60 hoppers!  We will be featuring Sept Stamp of the Month, Poster Tidings, a 2 stamp set for only $5 with any $50 purchase!  The hop is a great big circle so you can just start here and keep hopping!  If you get lost along the way you can see the entire list of hoppers here.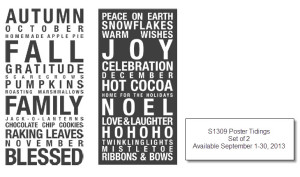 If you've come here from Tamra's Blog you are in the right place!
I don't really make a lot of fall cards and items, but if I did I would use this stamp!  So I went for the holiday flair on this.  Using frosted paper,  I made a very simple card.  This stamp is HUGE and is such a nice touch to a simple card!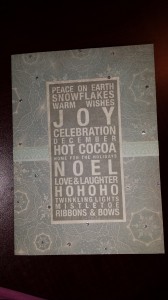 Now, hop on over to Vicki's Blog and see what amazing creations she has for us!
If you are interested in this stamp set, contact your CTMH consultant or email me at mariamyers222@gmail.com