Happy New Year and Welcome to the Stamp of the Month Blog Hop!  This month we have nearly 50 hoppers!  We will be featuring January Stamp of the Month, Cross Stitch Wishes, a 12 stamp set for only $5 with any $50 purchase!  The hop is a great big circle so you can just start here and keep hopping!  If you get lost along the way you can see the entire list of hoppers here.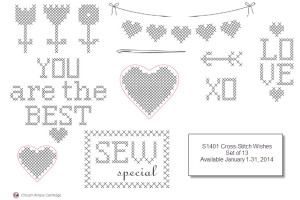 If you have come to me from Wanda's blog, you are in the right place!
I love the way this set stamps – the 'cross stitching' provides great detail!  I chose to do a gift tag with this on a round coaster.   Since I was only doing one I cut it by hand and then cut out the stampings as well.  Here's how it turned out!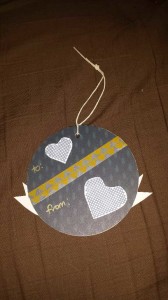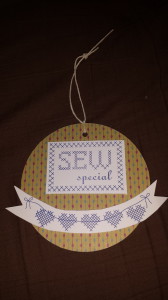 Now, hop on over to Joy's blog and see what amazing creations she has for you!
If you are interested in this fabulous stamp set, contact your Close to My Heart consultant and if you don't have one email me at mariamyers222@gmail.com