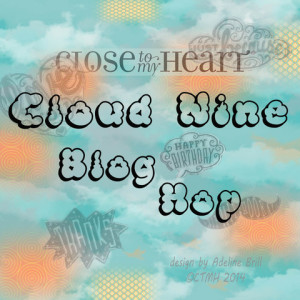 Welcome to the Cloud Nine Blog Hop!    We have over 20 hoppers for this blog hop!  Remember, the hop is a big circle so keep going through and you can go all the way around!
You  can get this exclusive Cloud Nine cardmaking kit for $15 (retail value $46) with a qualifying purchase of $35 or more  during January in celebration of National Papercrafting Month. Make 10 adorable cards (2 each of 5 designs) with funky messages to put any recipient on cloud nine! You can add one cardmaking kit for every $35 in your order.  This is a great special offered by CTMH for National Stamping Month!
If you have come from Karen's blog, you are in the right place!
This is a great deal and I love to make cards from kits and sometimes I like to rearrange cards from kits as well.  So for this hop, what I have done for you is made one card per the instructions, and a second card with the same initial cuts and stamps as the instructions but I put them together differently.  Just a little spin for creativity!
So, for each picture, the card on the left is using the instructions and the card on the right is my spin on it!
So I made two other non-card items with the scraps.  The first is a notebook that I just cut out 4×4 and put together with my bind-it-all.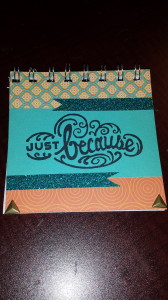 Then I decided to try something – I'm not sure how much I like it but here it is – an altered mousetrap with a magnet on the back for a fridge clip: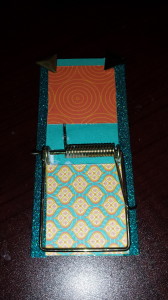 Check out the contents of this kit!  I have nearly the whole roll of washi tape leftover and more than half of the shimmer trim  too!
1 – My Acrylix™ Cloud Nine Stamp Set (D-size) 1 – Cloud Nine B&T Duos™ Paper 1 – Lagoon Cardstock Sheet 1 – Honey Cardstock Sheet 1 – 9″ μ 9½" White Daisy Die-Cuts Sheet 1 Roll – Gold Polka-Dot Washi Tape + 1 Roll Teal Shimmer Trim, – 1 Package Durables Triangle Studs – 10 Card Bases & Envelopes – Instructional Brocuhre – Featured Colors: Lagoon, Sunset, Honey, White Daisy
Contact your Close to My Heart Consultant to purchase this kit and if you don't have one, email me at mariamyers222@gmail.com
Now, hop on over to Melinda's Blog and see what amazing creations she has for you today!