Welcome to the Stamp of the Month Blog Hop!  This month we have over 50 hoppers!  We will be featuring March Stamp of the Month, Happy Place, a stamp set for only $5 with any $50 purchase!  The hop is a great big circle so you can just start here and keep hopping!  If you get lost along the way you can see the entire list of hoppers here.
If you have come from Michelle's Blog you are in the right place!
I loved the mother/daughter idea in this set, although I have a son of my own

 Made my own mom a Mother's Day card.  Very simple – black ink on a white card and then colored in using our watercolor pencils.  Hope you enjoy!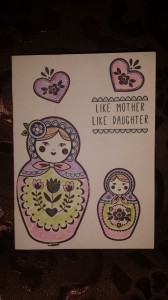 Now, Hop on over to Wanda's Blog and see what she has created for you!
If you are interested in this stamp of the month, or the new idea book, please contact your Close to My Heart Consultant.  If you don't have one, please email me at mariamyers222@gmail.com