Welcome to the CTMH Stamp of the Month Blog Hop!  We have 71 Close to My Heart Consultants participating in this month's Blog Hop for the March Stamp of the Month which can be  yours for just $5 with any $50 purchase!   If you lose your place while traveling through our blog hop, the complete list of participants can be found here.
If you have come from Nikka's Blog  you are in the right place!
This is a very cute set and I chose a few of the stamps from the set to showcase for you today in a simple card!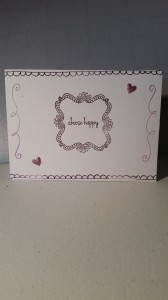 Now, hop on over to Lela's Blog and see what amazing creations she has for you today!
If you like what you see and would like to take advantage of this offer, contact your Close to My Heart Independent Consultant.  If you don't have one email me at mariamyers222@gmail.com