One of my favorite things about being a close to my heart consultant is the minimum sales per quarter to stay active as a junior consultant and get the associated discount is $100!  That's $33/month in sales – I spend more than that in a month myself!   By joining now you get the fantastic new consultant kit PLUS the most amazing Cricut package available today – Art Philosphy.  That's like buying the Art Philosphy set and getting a business for free!
New Consultants who sign up between March 1—31 receive a FREE Cricut® Art Philosophy Collection* or $100 in Select Product Credit** in their New Consultant Kit!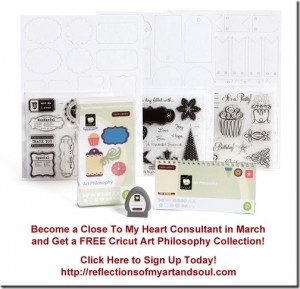 When you sign up as a new Consultant between March 1–31, you'll receive a FREE Cricut® Art Philosophy collection*! The collection's retail price of $99 adds incredible value to your New Consultant Kit and will give you hours of creative fun with the included exclusive Cricut® cartridge, three coordinating My Acrylix® D-size stamp sets, and three sheets of matching Dimensional Elements shapes. Already own the collection? You can always give your free one as a gift or choose to receive $100 in select product credit** instead. Now is the time to embrace the philosophy of fun—Consultant and Cricut® fun!
For more information, or to join the Close to my Heart team……
https://orders.closetomyheart.com/Enrollment/Default.aspx?SponsorID=140808866&h=0