I travel every week for work.  When I'm lucky enough to be driving to my client, as I am now, I try to bring some crafty things to do in my hotel.  I often pack a ton of paper items and stamps and ink pads, only to find I don't have enough time and don't use it, or don't feel like dragging it all out.  Tonight was one of those nights.  I have a bag packed efficiently with lots of CTMH stamp pads, a bunch of stamp sets, the paper trimmer and who knows what else.  I just didn't feel like making a mess at 8pm so instead I decided to just make some 'halfway' cards for now and then when I'm home in my comfy craft room I'll make a mess with ink and stamps.
What I did was last weekend, while I was doing some other things in the kitchen, I cut a ton of various shapes on the cricut on Art Philosophy.  I cut full sheets of paper packs, some scraps into shapes, and some cool other papers I had that seemed to match the paper packs I was using.  I had absolutely no plan when I did this other than I am going to make cards out of this.  So when I felt like doing something creative tonight, but not quite start to finish, I pulled out the shapes: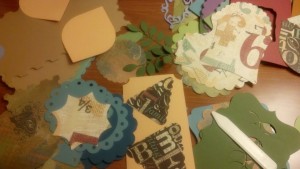 I just sat and put together a bunch of cards to be.  I say to be because I want to stamp them and embellish more but not in this hotel room

This is some of what I did with these scraps (sorry about the quality they are phone pics).  More to come when they are complete.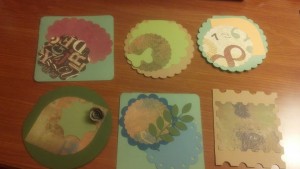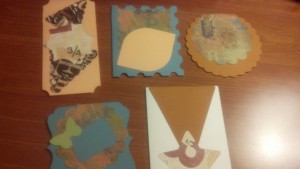 I even cut out a bunch of roses and other flowers so I can add them to coordinate.  And then I forgot to pack my tweezers so those will have to go on later.
These took me less than an hour to do and now I can have some fun figuring out what I want to stamp on each and what kind of cards they are each going to become!