Welcome to our National Scrapbooking Month Special – Dreap Pop Blog Hop!  This month we have 35 participants in the blog hop! We will be featuring  the amazing paper pack – Dream Pop! which is available for $10 with any $35 purchase!  If you have come here from Wendy's Blog, you are on the right path!  The blog hop is a great big circle, so you can start here and work your way all around. If you get lost along the way, you'll find the complete list of participating consultants here.
Edit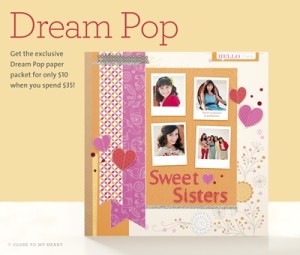 In honor of National Scrapbooking Month, you can get a special paper packet
for only $10 when you spend $35 in May (valued at $19.95 retail). This paper
packet includes 12 cardstock sheets as well as 12 B&T Duos® papers that
were specifically designed for this promotion only—you can't get the paper
packet anywhere else! Start National Scrapbooking Month off right with a
unique paper packet at a bargain price and get your creative juices flowing!
Also, consider hosting this month: Hostesses receive one paper packet free
with qualifying May Gathering sales totals of $400 or more
I LOVE LOVE LOVE this paper pack.  it doesn't photograph nearly well enough but the solid sheets are SHINY and textured.  It's a HUGE paper pack and is so much fun for spring!
I made a few cards on Artiste and I also bought a little plaque at ACM and cut a similar shape on Art Philosphy to make a monogram sign.
If you are interested in purchasing this paper pack contact your CTMH consultant or if you don't have one send me an email to mariamyers222@gmail.com to find out how you can get this packet and even more discounted items!
Now hop on over to Elizabeth's Blog and see what she has created for you today!