Welcome to the CTMH 30 Years of Happy Blog Hop!  We have over 40 Close to My Heart Consultants participating in this month's Blog Hop for the National Stamping Month special, which can be  yours for FREE with any $30 qualifying stamppurchase!   If you lose your place while traveling through our blog hop, the complete list of participants can be found here.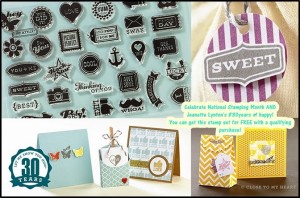 If you have arrived here from Vicki's Blog you are in the right place!
This is a great set and  even better for free!  Lots of cute little happy sayings.  I decided to do a card with a few of them for a congratulations card that could be used for any occasion!  I chose four of the stamps and cut 1 1/2 inch circles to place them on.  used the zip strip for an accent and a cute little flower from this set to finish off the corners!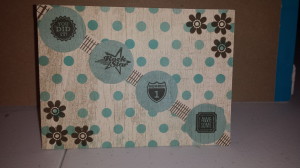 Now, hop on over to Sarah's Blog and see what amazing creations she has for you!
If you want to take advantage of this promotion, contact your Close to my Heart Independent Consultant and if you don't have one, email me at mariamyers222@gmail.com.