Welcome to the CTMH Shin Han Marker Blog Hop!  We have over 40 Close to My Heart Consultants participating in this month's Blog Hop for our new line of Shin Han Markers!   If you lose your place while traveling through our blog hop, the complete list of participants can be found here.
If you have come here from Jaime's Blog you are in the right place!
I will admit I have never used this type of marker and I was so pleased with these!  It was so easy to color and blend!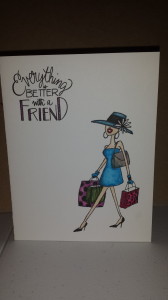 Now, hop on over to Peachy Iris' blog and see what amazing creations she has for you today!
If you like what you see and would like to see more, contact your Close to My Heart Consultant and if you don't have one, email me at mariamyers222@gmail.com