I could not wait to get my hands on this cartridge and get started!  (Consultants get to order items one month prior to launch of idea book!).
I have a bridal shower to attend and wanted to do a mini album but I really am not so good at putting those together myeslf

 Alas, the Artbooking cartridge has so many mini-albums!
I chose the For Always Paper because I wasn't sure what colors she was having.  And I love this paper – so elegant….and then I chose the Elegance Mini Album on page 46 and 47 of the Artbooking Booklet.  This mini album says to cut at 11″ and produces an 11 x 8.5 album.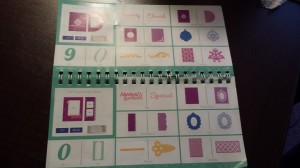 I set my dial to 11″, grabbed some Black cardstock and some Colonial White cardstock and took to cutting!  I cut every image on these pages except the last overlay (one was enough I felt for this album).  I never had to change the dial size – all cuts were proportionate to the size of the album!  Had I wanted to, I could have changed the size and used real dial size to cut them smaller or larger.
Here are the pages of my album, and a few close ups of some of the details.  I did choose words from a few other keys just to add a little zing!  I took the pics with my phone and didn't iron the sheet behind them

Enjoy and don't forget about my pre-order special for Artbooking.  If you pre-order and pay by 10pm on 7/31, you will receive 10% off Artbooking, free shipping AND the August Stamp of the Month on me!  Email me at mariamyers222@gmail.com if interested.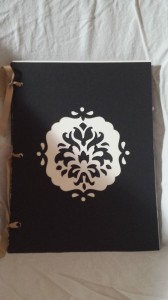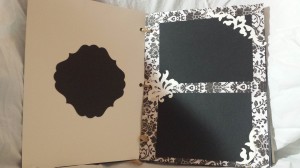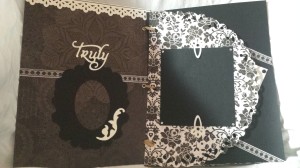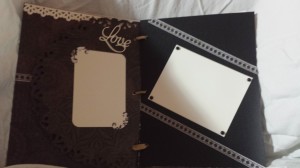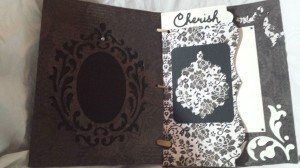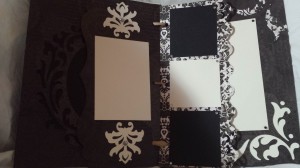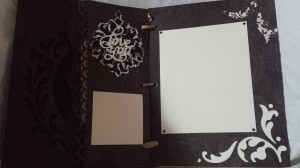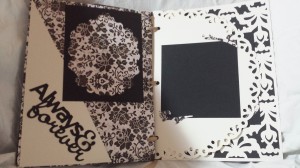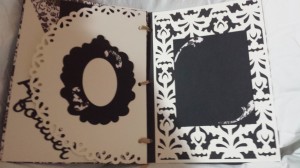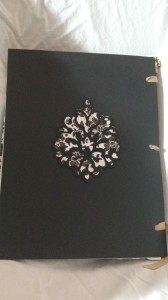 And some of the details……