I'm doing a card swap so I have a few different cards to post over the next couple of days but this one is hands down my favorite

I love this paper pack called Flirty!  The colors are so vibrant and the pattern is so pretty.  So I paired it with stamp set Love Blooms (C1511 $13.95) which is a two layer stamp.  It came out so pretty and was very easy to do.  Reminds me of watercolors.
I stamped the inside of the card and the envelope.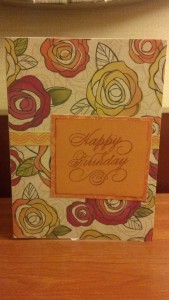 In the middle of the card I used the zip strip from the paper to set it off then used the flip side to mat the Happy Birthday cutout.
Want to make this card yourself?  Email me at mariamyers222@gmail.com to ask how to order or go to http://mariamyers.ctmh.com  to order online.  New customers who order through me directly in September will get a 10% discount.  Email me if you are interested!