Welcome to our New Product Blog Hop!  We will be featuring new products from the just released Fall/Winter Idea Book.  If you have come here from Casandra's Blog, you are on the right path! The blog hop is a great big circle, so you can start here and work your way all around.  If you get lost along the way, you'll find the complete list of participating consultants here.
This month we have 55 Close To My Heart Consultants sharing their creations using brand new products from the Fall/Winter idea book and other great CTMH products on their blogs. This is simple to do – just click on the link at the end of the post on each blog to move to the next one! Here we go!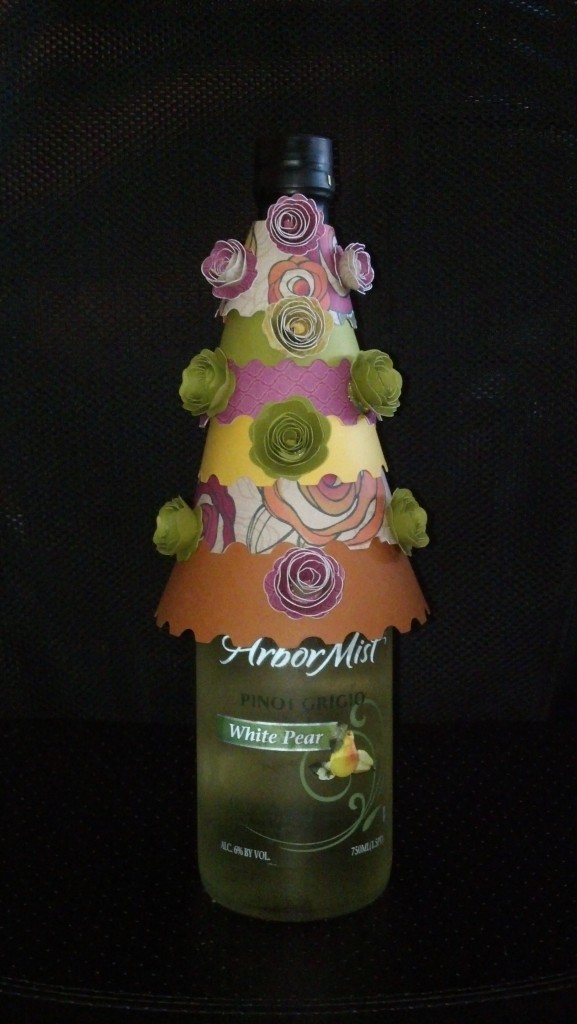 I can't help it – I had to try something with the new Artiste Cricut cartridge.  But something different.  We give wine bottles as gifts all the time, and particularly at holidays.  I figured I'd hold off on the Christmas décor for a little while longer, so I chose one of my new favorite paper packs, Flirty, to create this wine bottle 'topper'.
I chose the cupcake wrapper of the Artiste handbook to create the wrappers I used to create a 'cone' to top the bottle.  I cut at 2 ½ inches for the bottom two, 2 inches for the next two and 1 ½ inches for the final two.  I used my tape gun to tighten them at the desired size if the standard notch wasn't quite right.  I used pop dots to affix them together.   It has a little circus'ey feel to me in this particular pattern.  I'm thinking with Christmas papers it will look more like a tree.
I also used the Artiste cartridge to create the flowers that are adorning the topper cut out of Flirty patterned papers.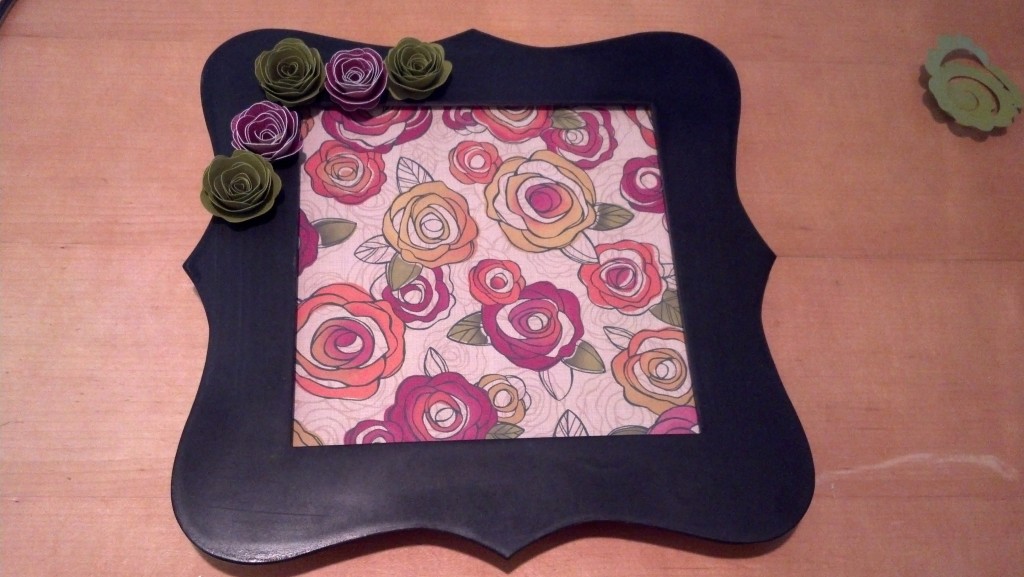 I also used the new My creations bracket frame ($8.95, Z1797) to create a unique framed art piece that is also useful.  I was inspired by the new Chalkboard adhesive vinyl ($4.95,Z1789) however it didn't arrive to me in time so I decided to make the same project a different way. I'll feature the chalkboard adhesive vinyl as soon as it arrives to me!  To keep the project as I had planned, I used chalkboard spray paint from Lowe's to spray the entire frame.  I adorned it with Flowers in Flirty!  Now it is a versatile frame that can be decorated for any occasion!  I LOVE chalkboard surfaces and cannot wait to get this new product to use as well.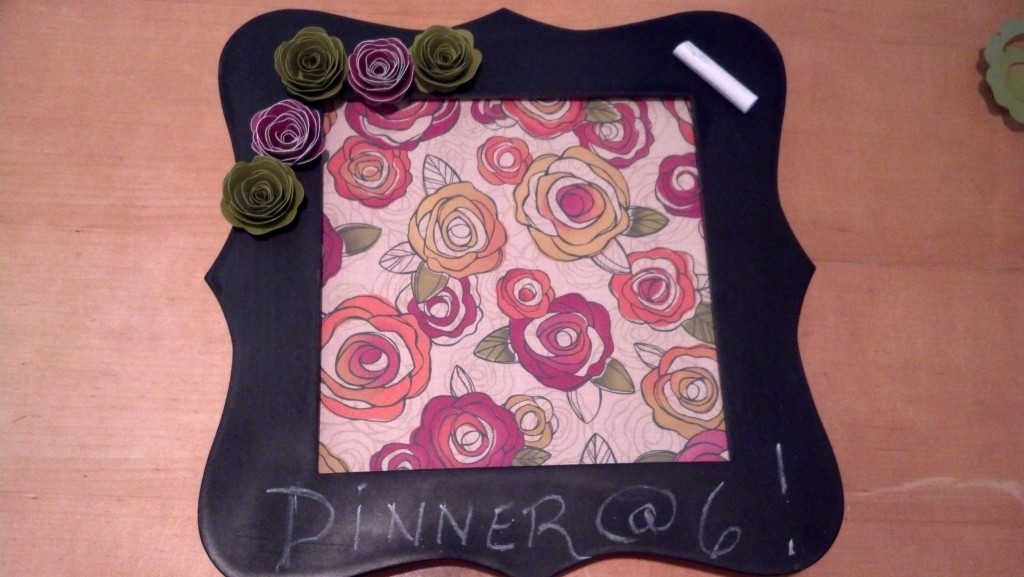 Now "Hop" on over to Misty's Blog to see her work! Be sure to visit all the Consultants at their Blogs to get some great crafting ideas and other fun ideas!
Check out the new WHILE SUPPLIES LAST items on my website!  These prices are CRAZYYYYYYYY!  $2 12×12 albums and really cheap paper packs and embellishments – many are $1!!!
Contact your CTMH Consultant or
I will hold a drawing next week for a goodie bag worth one $50 in product for anyone who places an order at my online gathering (Click join now on Maria Myers' gathering on the website).  No minimum order to get entered into the drawing!
Contact your CTMH Consultant or email me at mariamyers222@gmail.com to see how you can get the new idea book!
The new consultant package is here and it is only $49 for the basic package with all of the essentials and more!  And while supplies last, new consultants will automatically get this fabulous bag for FREE!  This bag is only available to new consultants and those who attended convention!  And did you know?  Many CTMH consultants are hobbyists who don't do gatherings and are able to maintain a consultant status and get discounts and perks through CTMH!  Email me at mariamyers222@gmail.com if you are interested in discussing this opportunity!
And the free bag…….plenty left as of today (8/5/12)