For anyone who knows me I am a Disney nut.  We go every year to DisneyWorld and sometimes twice.  Each year I make shirts for our family and am always looking for a new project to make a fun shirt.  I did some iron on shirts for my upcoming 20th wedding anniversary trip but then I saw this idea and I couldn't resist making it with a Disney Flair!
I took a white 100% cotton shirt and wrote on it using Elmer's Glue Gel – it's the blue one – this is the only one that will work on this project.  I found it at Michael's after circling Walmart aisles for longer than I could stand!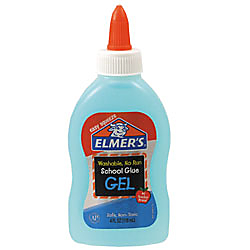 I wet the shirt and laid it out  flat and used a rubbermaid tub top to put between.  This was not the best choice for putting between the shirt layers as it is not totally flat and I think may have contributed to some of the glue running I had.  I would use a trash bag to put between – it's waterproof and won't affect the way the shirt lays.
I spent more time thinking about what to write than actually writing it.  I was going to do "It's a small world" lyrics but was afraid it would NEVER get out of my head so I went with my favorite – Beauty and the Beast.  I wrote out the first verse then decided on what I wanted for the bottom half as there was only room for one more verse.  It was so easy to write with the glue – this was my biggest fear.  No problems there.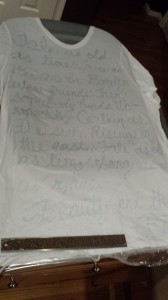 I left it sit overnight and was very surprised in the morning when half of the glue was still very wet.  Not to mention the dead bug in the B of Beauty

 I took it outside into the sun to dry and save for a few more dead bugs in the letters, it dried quickly.
I prepared my dye bath with rit dye according to the dye instructions.  I used hot water as the dye box said to and also added 1c salt as per box instructions.  I only had the shirt in the dye bath a few minutes until the color on the shirt made me happy.  I knew it would lighten up a lot but I didn't want the glue to wash out while it was in the dye and ruin the effect so I didn't leave it in more than a few minutes.
I rinsed out the shirt in the sink until nearly clear water then I soaked it in a cold water bath with some dish soap to help get the glue out.  I wrung it out and threw it into the washer and washed and dried as usual and voila!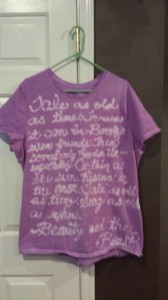 I'll be putting the occasional Disney project here on my blog but my first love is stamping and papercrafts.  If you are interested in Close to My Heart products please feel free to email me at mariamyers222@gmail.com.  Thanks for looking!