I made a few very simple cards tonight using Close to My Heart Stamps and some watercolor pencils.  This was my first attempt at watercolor pencils and I am very happy with the results!
For the first card I used Archival Black ink pad with the Happy Camper stamp set.  I used my watercolor pencils to color in the images and then a water brush to blend the color in so that it was soft and even.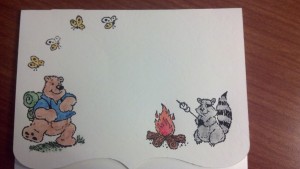 For the second card I tried something new.  I stamped the images that had houndstooth in them using Archival Black ink pad again.  This time I colored each image in a different watercolor pencil to 'colorize' the image.   Not sure the picture does this justice but the effect is pretty cool.  I get a washed out look for the color.  This could be done with other color stamp pad to have more of a tone on tone look (which I may just try tomorrow night!).